Masscape® Control Software
Providing full control of sample method, data acquisition and the analysis of samples, the 4500 MiD® features our integrated, intuitive open-access software, Masscape®.
Designed for rapid set up and ease of analysis, Masscape® also removes the need for a monitor or keyboard. The remote-control LAN connection enables deployment anywhere in the laboratory or within processing facilities, including in fume hoods.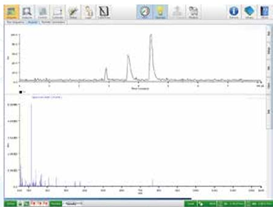 Masscape® also controls the dilution and ports in the optional MiDasTM liquid sampling interface unit for flow and direct injection monitoring, automated sample and flushing set up in the 4500 MiD®. In addition, the software may be used off-line as a data analysis tool.
In Summary - the 4500 MiD® from Microsaic - together with the MiDas and Masscape software - is a unique, purpose-built instrument designed to meet your point-of-need mass spectrometry requirements - simply, efficiently, compactly, and economically.
Microsaic products are available in North America - only from iChrom Solutions.
Call for more information, a demonstration, or a quotation.