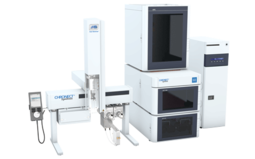 CHRONECT Symbiosis Plus - Flexible UHPLC with Online-SPE Front End for Research and Development
CHRONECT Symbiosis Plus is the next step up in the CHRONECT Symbiosis family from the CHRONECT Symbiosis Basic. Including all of the components already in the CHRONECT Symbiosis Basic, the CHRONECT Symbiosis Plus thus offers the same increased assay performance benefits of online SPE coupled to UHPLC.
These benefits include:
Because of its unique architecture, the CHRONECT Symbiosis Basic offers the scientist three distinct operational capabilities (without replumbing!):
Any of these three options may serve as a front-end to multiple detectors (including MS and MS-MS), or even a fraction collector if desired.
In addition to these powerful options, CHRONECT Symbiosis Plus offers an upgraded ACE (Automated Cartridge Exchanger) with a second cartridge holder position, and three extra UHPLC switching valves (a total of four).
The extra cartridge holder and valves add significant new capabilities to the Basic System, including:
**With a Single ACE module, a sample is extracted via the single online cartridge, then the cartridge is eluted into the analytical column and UHPLC performed. With the Dual ACE module, the second cartridge allows for the next sample to be extracted during the previous sample's analysis time. This can result in much shorter overall cycle times, and is ideal for laboratories requiring very high throughput. This process is intelligently and efficiently managed by the included CHRONOS CHRONECT Symbiosis software.
See below for more details on the CHRONECT Symbiosis Plus system modules, features, and options.
CHRONECT Symbiosis Plus Overview
Modules included in CHRONECT Symbiosis Plus
CHRONECT Symbiosis Plus Options