This means the system can be installed in places where no other mass spectrometer could possibly be deployed; locations such as process streams where continuous, real-time data collection is needed for reaction optimization, field locations such as vehicle-based mobile laboratories, or even just conventional bench labs where space is at a premium.
For example, the product can easily be placed in a fume hood next to a flow reactor; or in a process plant near a feed stream, to ensure real-time quality control of industrial products.
The 4500 MiD® is also equipped with a remote operations software module for rapid, convenient integration with third-party control systems.
And due to the miniaturized elements within the system, power usage is limited to 250W (operating)/300W (peak), with a typical nitrogen consumption of only 2.5 L/min @30-90 psi.
Benefits of the 4500 MiD® MS System
The 4500 MiD® system is also ideal for:
"Point-of-Need" refers to a process or situation requiring immediate resources or data at a precise location.
Examples include:
a specific step in a production process
a research project where rapid and timely results provide faster research outcomes
medical or clinical events requiring responsive assessment and treatment
testing on-site at a field location
or any other scenario where sample transfer to another location is inconvenient
expensive
challenging
or even life-threatening
In pharmaceutical, biopharmaceutical, or industrial environments, data may be required to identify and characterize the components of a chemical or biological process. Point-of-need analysis using powerful mass spectrometry detection, enables users to make decisions to adjust, optimize and control their processes in real-time. Instead of suffering costly delays sending samples to a centralized MS facility, the 4500 MiD® technology from Microsaic provides processing and manufacturing agility, as well as overall laboratory and commercial productivity.
Point-of-need MS provides greater assurance of the final product and its critical quality attributes - a particular concern for biologics - and saves both pharmaceutical (small molecule) and biopharmaceutical (large molecule) organizations valuable time, resources, materials, and ultimately, money.
Chip-Based, MEMS Technology
The design of the Microsaic 4500 MiD® is made possible by advanced, proprietary chip-based MEMS technology, which enables analytical detection and characterization at an unprecedented degree of miniaturization. This also makes the 4500 MiD® highly portable, quick, and very easy to set up and maintain – without prior MS knowledge such as required by larger, more complex systems.
This same approach also allows the ion source, quadrupole, and other system components to be exchanged on a plug-and-play basis; this means the instrument front-end is serviceable without tools.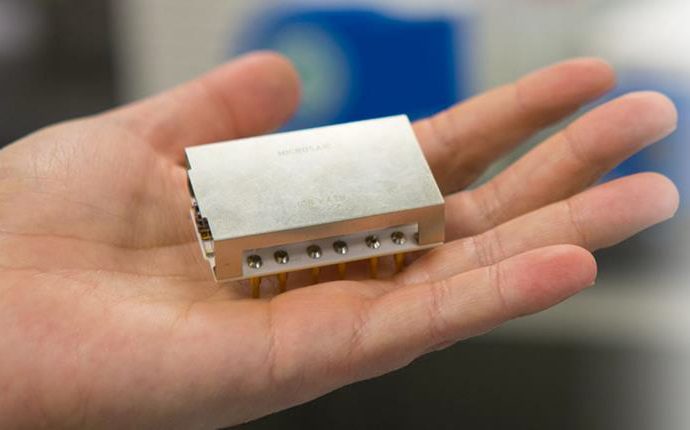 Other Key Features of the 4500 MiD® MS System
In Summary - the 4500 MiD® from Microsaic - together with the MiDas and Masscape software - is a unique, purpose-built instrument designed to meet your point-of-need mass spectrometry requirements - simply, efficiently, compactly, and economically.
Microsaic products are available in North America - only from iChrom Solutions.
Call for more information, a demonstration, or a quotation.