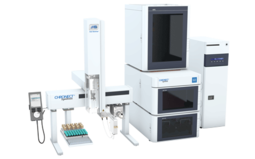 Flexible UHPLC with online SPE front end
CHRONECT Symbiosis Basic is the entry-level system for the SPE/UHPLC user on a budget. Yet the CHRONECT Symbiosis Basic still offers all the fundamental advantages of online SPE coupled to UHPLC - to increase assay performance, including:
Because of its unique architecture, the CHRONECT Symbiosis Basic offers the scientist three distinct operational capabilities (without replumbing!):
Any of these three options may serve as a front-end to multiple detectors (including MS and MS-MS), or even a fraction collector if desired.
See below for more details on the CHRONECT Symbiosis Basic system components, features, and options.
CHRONECT Symbiosis Basic Overview
Modules included in CHRONECT Symbiosis Basic
CHRONECT Symbiosis Basic Options