CHRONOS is the core controller for all CHRONECT products provided by iChrom Solutions, including:
All CHRONECT Symbiosis Systems
All CHRONECT Symbiosis Modules
All CHRONECT UHPLC Products
CHRONECT Dried Blood Spot Autosampler (DBS)
CHRONECT Extract Collector
All CTC Autosamplers with CTC firmware
In addition, CHRONOS sample lists are readily transferred directly to most major mass spectrometer software, enabling single sample-list building for the entire analytical system.
CHRONOS controls the above systems and components an efficient and intelligent way, and enhances sample throughput by performing overlapping processes.
Most chromatographic processes in analytical laboratories use autosamplers. The purpose of these samplers – and automation in general - is to increase throughput without the need for additional personnel. Until now, samples have been processed strictly in linear sequence, and often require dedicated personnel for sample prep.
One result of this is lost time due to lack of analyzer use while samples are prepared.
CHRONOS recaptures this lost time, by increasing the active measuring time of the analyzers, and therefore considerably raising the efficiency – and throughput - of the laboratory.
Automation is an important topic in chromatographic laboratories. A de¬crease in the number of personnel and increasing throughput requirements make automation necessary whenever possible. Decreasing sample cycle times - and overall laboratory turnaround times - is tremendously difficult without high-performance auto¬mation.
Apart from considerations of efficiency, au-tomation has the advantage that the analytical precision typically increases, since indi¬vidual errors due to manual steps are re¬duced. The CHRONOS software solution offers extensive automation options and helps the laboratory the challenges of daily operations - simply and effectively.
One of the particular strengths of CHRONOS is automation for complex analysis methods; this includes methods in which automated sample prepara¬tion by the autosampler may consume consid¬erably more time than the instrumental analysis itself. These methods often result in analytical system delays; such delays are minimized using the CHRONOS parallel-processing approach.
Parallel Processes for Sample Preparation
CHRONOS software facilitates parallel processes for sample preparation and analysis. Using CHRONOS, a new sample is prepared, while the chromatographic analysis of the previous sample is performed.
In addition, CHRONOS organizes the connection to the mass spectrometer control and data system, including triggering data acquisition and starting chromatographic runs. Thus all CHRONECT Symbiosis Systems are capable of processing multiple batches - even across multiple assays – quickly and reliably, with the highest analytical performance… fully unattended.
A graphic representation of the sample processing is created at the touch of a button; overall duration and current progress can readily be followed in real time. Multi-stage sample preparation procedures can be run in parallel to instrument analysis by means of an integrated algorithm: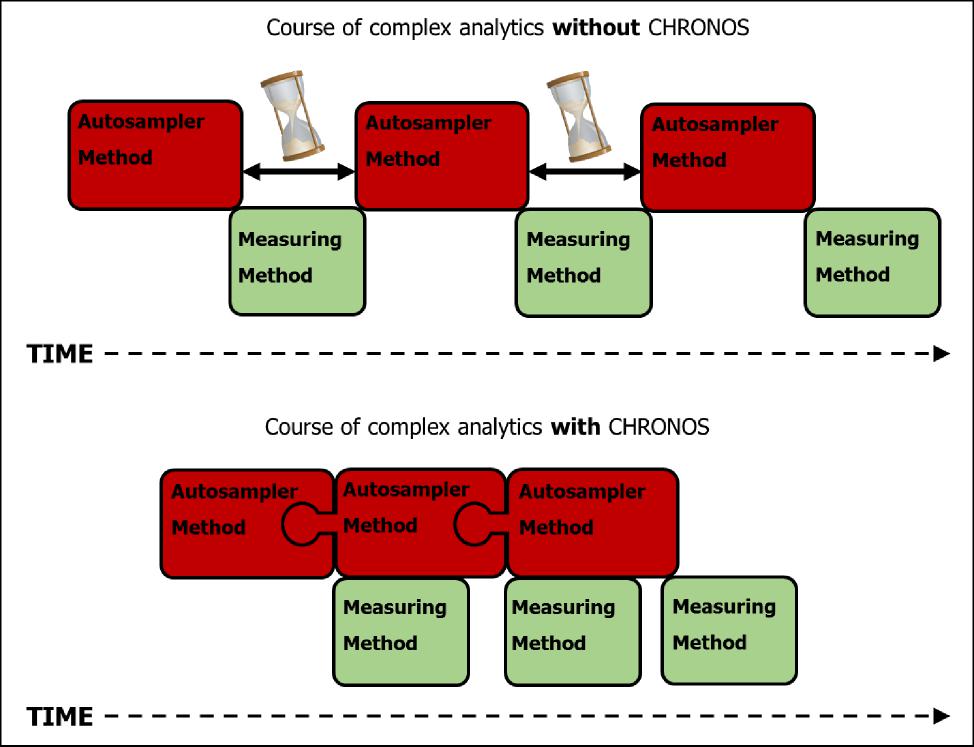 A representation of time elapsed for a complex analytical method, with and without CHRONOS control. The upper image shows a typical serial process for sample prep followed by analysis, one sample at a time. The bottom image shows autosampler (sample prep) steps overlapping with analytical procedures, and fuller utilization of the instruments via CHRONOS.
The use of parallel processing between sample preparation steps and instrumental analysis leads to significantly more efficient instrument usage in the laboratory, as shown below:
Overall cycle time savings as a function of sample numbers, for a typical chromatographic method as a result of parallel processing between a) samples in the autosampler (sample prep side), and b) prepared samples being processed in the chromatograph.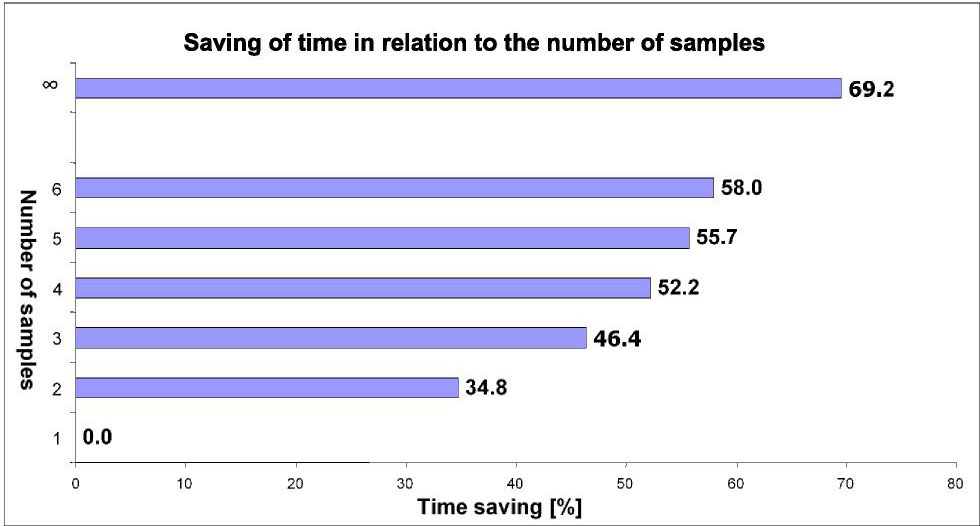 CHRONOS employs a clear, user-friendly interface, which minimizes the number of parameters that need to be changed; relevant values are recorded in tabular form, and only those values requiring change need be edited. This means a complete sample list can be generated conveniently in only a few steps.
Here also, it is possible to call up a graphic representation of the sequence of events: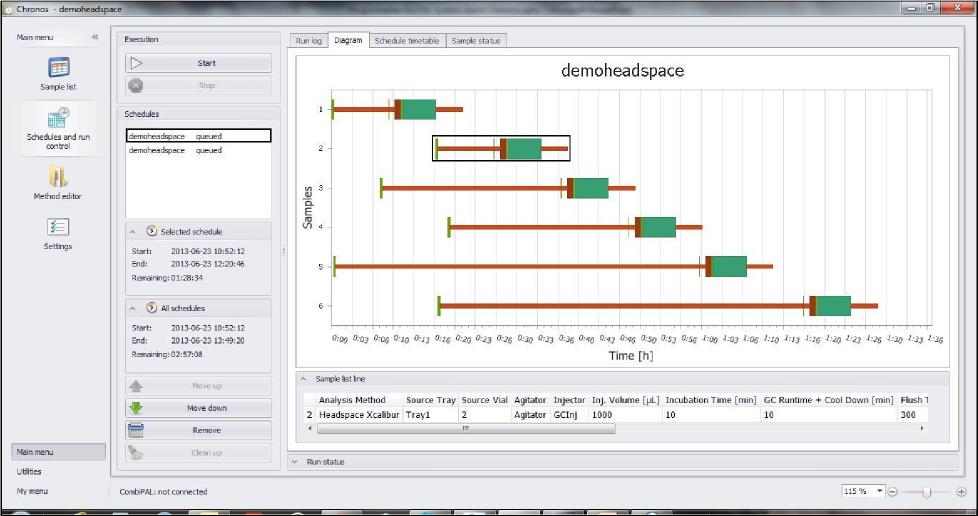 The overlapping sequence of events for a CTC autosampler sample preparation protocol/injection – along with subsequent sample analyses - can be readily seen in real-time via the graphical representation in the CHRONOS software.
The integration of CHRONOS with popular commercial mass spectrometer software allows for seamless, single-table sample queues for the system autosampler and the mass spectrometer data acquisition and control software packages; in other words, CHRONOS combines the sample list for the PAL autosampler control with the MS data system list, so the user only has to administer one list. This simplifies queue handling and avoids errors which could be caused with multiple sample tables. MS software packages supported by this integration include Analyst, Xcalibur, MassLynx, ChemStation, LabSolutions, MasterLAB, Clarity, and many others: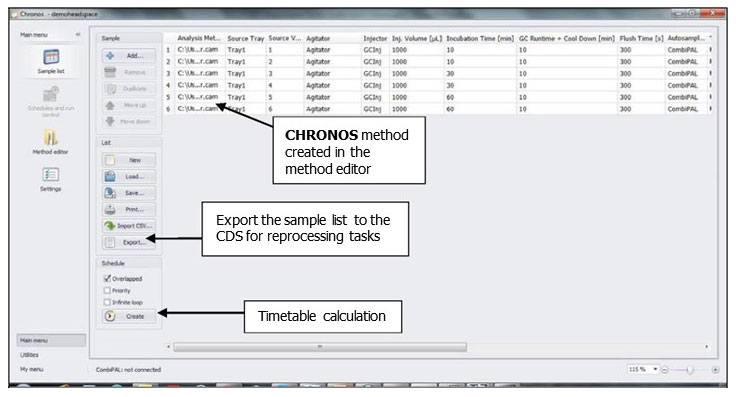 A CHRONOS method is created in the Method editor, then a Sample List is created for use with the method. This list is readily transferred to the respective mass spectrometer data acquisition and control software; no additional sample list is required to be set up within the MS software.
With CHRONOS it is easy to implement multiple methods across different samples, along with a wide variety of variable parameters; e.g., injection volumes, run times, equilibration times, different sample prep protocols, etc.
These methods are built up from a list of TASKS (work steps for the autosampler).
Following the choice of a task you can de¬scribe it for the purpose of clarity. Individual parameters for the task are specified or de¬fined as variables. CHRONOS thus enables the creation of complex automation methods in a simple, intuitive way. The clarity of complex methods is re¬tained by the hiding of parameters that are not required: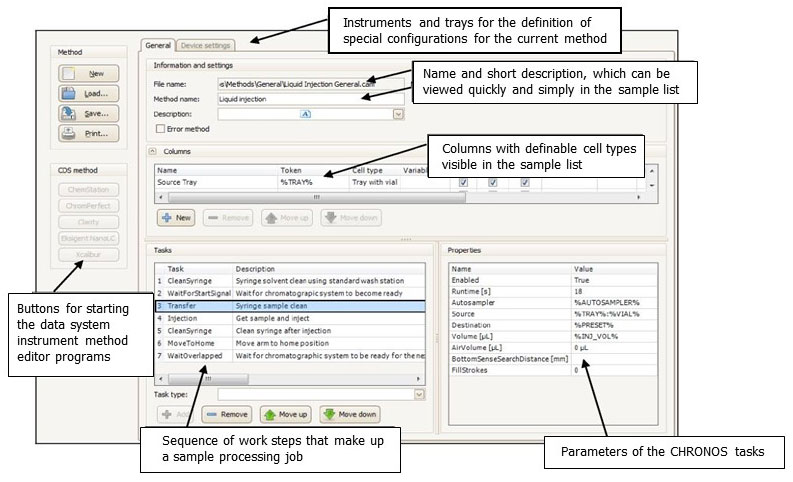 The Method editor allows assignment of individual work steps (tasks) and the sequence of the autosampler method. Specific properties and characteristic values can be found at the bottom left. The fields of the sample list, whose values can be set to 'editable' or 'not editable', are located in the top part of the method editor. The specific configuration for the method, which is stored with the method, is defined on the 'Device settings' ('Instruments' and 'Trays') tab.
CHRONOS offers a multiplicity of addition control capabilities; for example, CHRONOS can switch valves, call evaluation programs from measurement methods, import results from balances via the serial interface, and many other functions to automate cumbersome, routine tasks in the laboratory. CHRONOS is more than just an intelligent autosampler controller - CHRONOS is a flexible automation tool for the analytic laboratory.
CHRONOS can contribute to laboratory efficiency not only in the control of devices and preparation of samples; other processes in the laboratory are also supported by CHRONOS. Thus, it is possible in case of autosampler errors, to inform the user by SMS texts or e-mail, and transmit the error message (e.g. 'vial not found'). This allows for fast inter­vention by the laboratory employee.
CHRONOS provides a further interface to other laboratory systems such as LIM sys­tems with a barcode reader specially devel­oped for CHRONOS that also supports 2D barcodes. With 2D barcodes it is possible to store not only sample names, but also additional information such as the measurement method or sample weight. This information can be read out by CHRONOS and can be for­warded to the data system for processing. Information read from the barcode is saved in the sample list and is therefore availa­ble after the analysis is complete.
A thoroughly documented open interface al­lows customized plugins in order to integrate specific in-house processes into CHRONOS. CHRONOS offers a uniform interface for the control of various data systems and can thus be central to the unification of the la­boratory processes.
CHRONOS has an integrated authorization system. Three different authorization levels can be selected:
User - can only execute methods
Power User - can modify released method parameters
Method Devel­oper - can use the entire range of func­tions
These roles can be readily activated for regulated environments. Although they are in the universal XML format, the CHRONOS methods are pro­tected against being modified outside of CHRONOS. Various reports and log files allow complete documentation of the analysis pro­cesses.
Simultaneous control of several CTC PAL autosamplers or PAL DHR/TWIN PAL autosamplers; in addition, the PAL RTC is supported.
Multidimensional chromatography - e.g. with SPE for the removal of matrix constituents - is useful in particular in the case of LC-MS cou¬pling with ESI ionization.
Multiplexed chromatography for minimum run times across multiple concurrent sample analyses
Fluorescence detection via derivatization with the CTC PAL autosampler
CHRONOS features dedicated fraction collection tasks, with which a complete fraction collection method can be created for a chromatograph with a single mouse click
Versions
CHRONOS xt, CHRONOS 4.9 (latest)
CHRONOS xt
CHRONOS xt enables the control of PAL-xt series and older PAL autosamplers from CTC Analytics. It does not offer support for the online SPE system SEM or the RTC PAL.
CHRONOS 4.9
CHRONOS additionally enables the control of CTC RTC PAL and xt models, all modules of the CHRONECT sample preparation series and several further hardware components of third-party providers (see below).
Attention: PAL3 autosampler control requires CTC firmware. OEM samplers of the PAL3 series without CTC firmware can­not be controlled by the standard version of CHRONOS.
Controllable chromatographic systems
Agilent GCMS MassHunter
Agilent LC/GC & MS ChemStation above Version B; also OpenLAB
Agilent LCMS MassHunter
Analyst above v. 1.5
GL Sciences Evolution Software above v. 2.4, also dual systems
Bruker MS Workstation for LCMS & GCMS
ChromCard
ChromPerfect above v. 6.0
Clarity above v. 6.0
Dani MasterLab
Empower 2 (limited support)
EZChrom above v. 3.21, ChromQuest 5.0, OpenLAB (limited support)
(requires EZChrom Runtime License, which is not included with CHRONOS)
LECO ChromaTOF (using Sequence export)
Open Lab ChemStation
OMNIC Software for IR spectrometers
QuanLab 2.5, 2.5.2, 3.0, 3.1
Shimadzu LabSolutions
Waters MassLynx above v. 4.1
Xcalibur versions 1.4, 2.0, 2.1, 2.2, 3.0, 4.0

Further supported systems
Online SPE system CHRONECT Symbiosis, Eksigent NanoLC, Gilson Dilutor 402 & 4x20, Thermo GCs via GCLink, ITSP, FlipVials, Mettler Toledo balances
Controllable autosamplers to date
HTS PAL, HTC PAL, Dual PAL, PAL DHR, TWIN PAL, CombiPAL, GC PAL, HTC-xt, HTS-xt, HTX-xt, GC-xt, COMBI-xt, COMBI-xt Extended, LSI/RSI/RTC PAL (RTC PAL not supported by CHRONOS xt).
DLW injection (Dynamic Load and Wash injection) or the equivalent for the PAL 3 series (LCMS tool) by CTC Analytics is supported by CHRONOS.
PAL systems can be controlled via the serial interface or by network.
Valve control
CHRONOS provides control of Valco valves in methods. Valves must be equipped with a micro-actuator containing a serial interface.
Balances
Balances may be controlled by MT-SICS protocol via a serial interface. Thus, for example, weighing results may be determined and further processed.
Peristaltic pumps
CHRONOS supports the Watson Marlow 323Du pump for the pumping of liquids.
Magnetic stirrer
CHRONOS supports the Thermo Variomag magnetic stirrer and IKA Shaker for the stirring or shaking of liquids.
Syringe exchanger
CHRONOS supports the XChange syringe changer from SGE for the changing of liquid syringes on PAL xt systems (also possible with CHRONOS xt).
GL Sciences accessories
CHRONOS supports the LINEX liner change as well as the capping/de-capping station in conjunction with the Optic Injector from ATAS GL Science.
Barcode reader
Barcode reader enables the reading of 1D and 2D barcodes containing up to ten freely definable information boxes.
Refractive index determination
CHRONOS supports the Abbemat refractometers by Anton Paar
Shaker
High-energy shakers by Prolab may be utilized for an efficient mixing of prob¬lematic samples.
Centrifuge
During sample preparation, suspended matter from 2 mL and 10 mL vials may be separated using the small centrifuge by Prolab. Vial exchange is done by a PAL autosampler.
Accessibility to other software systems

The web service or customized plugins enable retrieval of sample lists by LABSQ from ICD.

Sample lists generated by the method validation software Validat by ICD may be imported.

Sample lists in the CSV format, e.g. from LIMS systems or data systems, readily import to CHRONOS.

System requirements
Minimum 2 GHz processor, 2 GB RAM, Windows 7 SP1 to Windows 10, serial in¬terfaces; each PAL which is connected serially requires one interface.
Standard methods

Methods are provided for the liquid injection, headspace and SPME as well as for liner change with GL Sciences systems. Registered customers can access fur­ther methods in the download section on www.axel-semrau.de.

License
Hardware dongle or activation via serial number is possible.